Free Rental Quote
How Much Will My Home Rent For?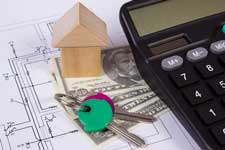 It's the first question that is often on a home owner's mind! And it's an important question! More often than not, it is the rental market, not the home owner, that ultimately determines the rental market value of your home.
If you are interested in finding out what your home can rent for, please fill out the form to the right. Once submitted, we will get back to you with a range of monthly rent you can except to receive on your home. We need an address to properly evaluate your home; providing a phone number is optional! Searching the Internet and trying to determine the rental value of your home? Please do not confuse your Google Search with our years of experience! We look forward to serving you! You can also try one of the methods below:
(1) As a general rule, to determine what your home will rent for monthly, multiply the current market value of your home by .0065 and then take into consideration a variance of plus or minus $100.00 To $300.00 based on the home's age & condition, location, school district, number of bedrooms, parking spaces in the garage, finished/unfinished basement and other amenities.
Example 1: A Home in The Denver-Aurora Metro Area Has A Market Value Of $350,000.00
$350,000.00 X .0065 = $2,275.00
This Home Would Typically Rent Between $2,100.00 and $2,500.00.
(2) Another option is to take the finished square feet in your home and multiply that amount by 1.10 ($1.10 Cents Per Square Foot on the Main Levels).
Example 2: A Home in the Denver Metro Area Has 2,000 Finished Square Feet.
Multiply The 2,000 Square Feet By $1.10 = $2,200.00.
This Home Would Typically Rent Between $2,100.00 and $2,500.00.
Please keep in mind that this is a general rule of thumb, not an exact science!
The variable of .0065 and the $1.10 cents per finished square foot can change over time based on market conditions, supply & demand, etc.
Homes in premium condition and locations and in more desired school districts typically demand premium rent! Homes in disrepair may attract sub-average rent! Previewing your home is the best way for us to properly assess the rental value of your home.
Call us, we would be happy to visit with you. By the way, tenants and the market are not sensitive to what the owner's monthly mortgage is! Wish they were, but they just are not! Thanks for visiting! We look forward to serving you!
Need A Professional Property Manager?
Owners Trust & Use Our Services:
No Upfront Fees!
24/7 Online Account Access & Timely ACH/Electronic Owner Proceeds
Dependable, Accurate And Accountable Bookkeeping
Maximum, Efficient Rent Collection And Eviction
Experienced, Full Time, Licensed Property Managers & Staff
24/7 Responsive Maintenance
Network Of Sites Advertising
Efficient Tenant Procurement & Screening
Request A Free Rental Analysis
Fields With Red * Are Required