BAH Military
Basic Allowance For Housing (BAH)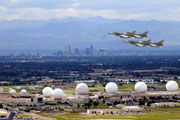 BAH provides tax free housing allowances to military members to help them cover the costs of housing in the private/civilian community. BAH can be used by military members to pay rent if they choose to lease a home and can also be used to pay a mortgage. The Department of Defense (DOD) determines the correct housing allowance to enable members to afford suitable rental housing within a reasonable distance of their duty location. For more information on the BAH Program, go to BAHPrimer.
BAH is based on geographic duty location, pay grade, and dependent status.
Visit the following Pentagon website for information on BAH rates based upon a specific Zip Code.
2023 Denver-Aurora Metro Area Rates
Basic Allowance For Housing (BAH)
| Grade | With Dependents | Without Dependents |
| --- | --- | --- |
| E1 | $2409.00 | $1806.00 |
| E2 | $2409.00 | $1806.00 |
| E3 | $2409.00 | $1806.00 |
| E4 | $2409.00 | $1806.00 |
| E5 | $2670.00 | $2004.00 |
| E6 | $2829.00 | $2169.00 |
| E7 | $2847.00 | $2415.00 |
| E8 | $2871.00 | $2709.00 |
| E9 | $2955.00 | $2742.00 |
| W1 | $2844.00 | $2325.00 |
| W2 | $2859.00 | $2706.00 |
| W3 | $2892.00 | $2748.00 |
| W4 | $2985.00 | $2826.00 |
| W5 | $3096.00 | $2853.00 |
| O1E | $2850.00 | $2664.00 |
| O2E | $2883.00 | $2736.00 |
| O3E | $2997.00 | $2817.00 |
| O1 | $2697.00 | $2139.00 |
| O2 | $2826.00 | $2583.00 |
| O3 | $2889.00 | $2766.00 |
| O4 | $3132.00 | $2838.00 |
| O5 | $3309.00 | $2856.00 |
| O6 | $3336.00 | $2874.00 |
| O7 | $3363.00 | $2919.00 |
Generally speaking, a "Dependent" is a family member. Okay.....so you are not familiar with military ranks? Perhaps the following will help. Unfortunately there are variations in titles for the different services (US Army, US Air Force, US Navy, US Marine Corps, And US Coast Guard). Here Are Just A Couple Of Examples:
E-5 (Sergeant)
E-6 (Staff Sergeant)
E-7 (Sergeant First Class)
E-8 (Master Sergeant/First Sergeant)
W-3 (Chief Warrant Officer)
O-1 (Second Lieutenant)
O-2 (First Lieutenant)
O-3 (Captain)
O-4 (Major/Lieutenant Commander)
O-5 (Lieutenant Colonel, Commander)
O-6 (Colonel or Captain For The US Navy)